Pricing
Simple pricing $49/month with 7-day free trial for standard plan.
Standard Plan
Manage your Roku Channel

$49/month
What's included:

One channel feed
Unlimited videos & categories
Custom & global ad breaks
Vimeo Pro/Standard metadata import
1 user account
Email support
VIP SOLUTION
Ultimate OTT solution for your business
Contact Us
Some of the services and features:
Dedicated OTT expert
Video content strategy
Staff training
Speed to market
VOD and livestream
AVOD, SVOD, and hybrid monetization models
Realtime video & ad analytics
Multi-user collaboration
Support (email, phone, and video)

Additional Features
In addition to our OTTfeed platform standard plan,
we provide extra features upon request.

RTMP Solution for Livestream
Your livestream will never be rejected by the Roku servers when it's inactive during content feed ingestion.
$50/month per livestream.

Playlist (VOD to Live)
Turn your videos into a 24/7 livestream loop, this will grow your audience engagement.
$50/month per playlist.

Multiple Channel Feeds
OTTfeed platform was built to scale with your business, manage multiple channel feeds.
$49/month per feed.

Team Collaboration
Multi-user support makes collaboration with your team members a breeze.
$50/month for 5 users.

Request Additional Feature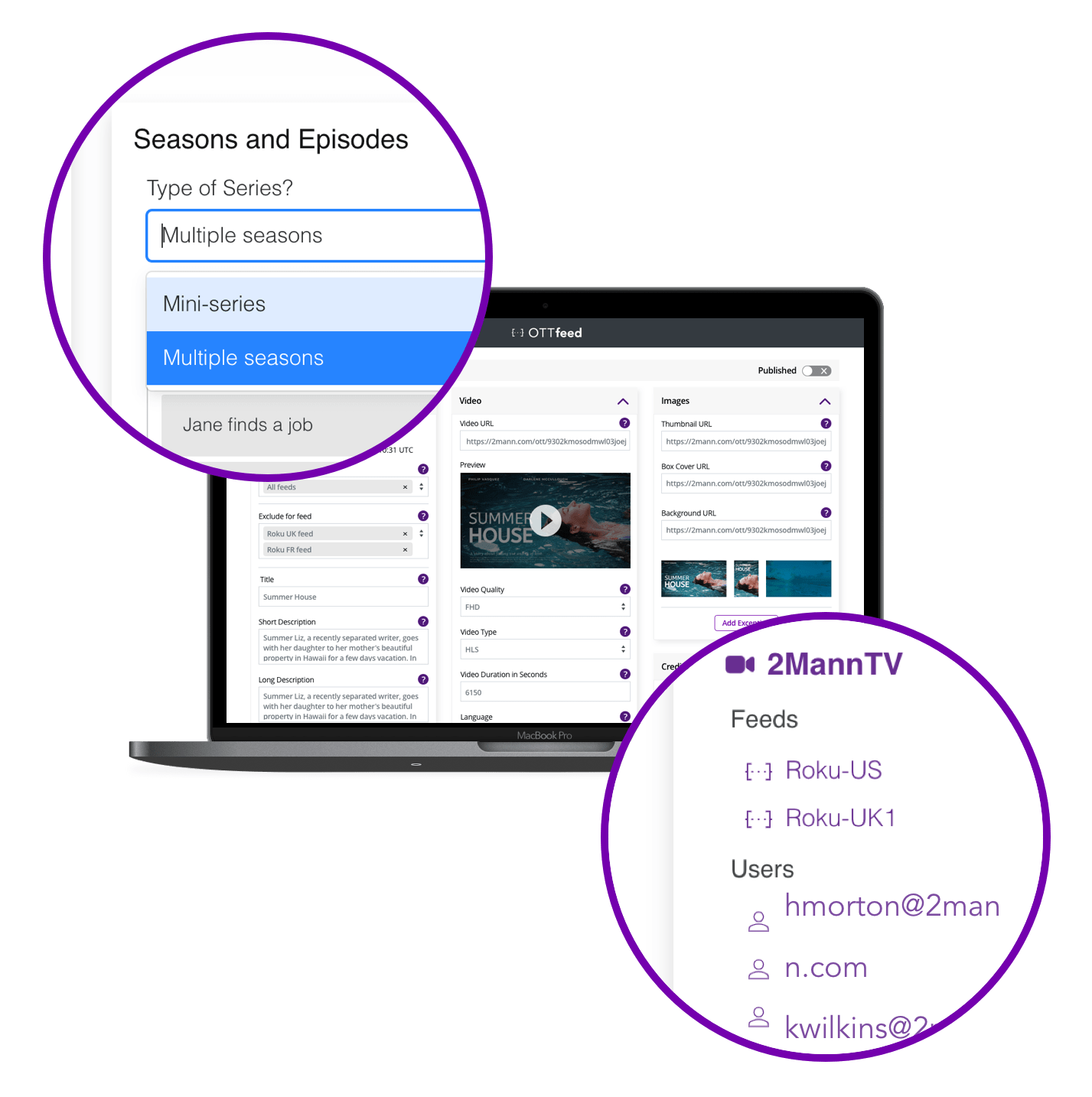 Frequently Asked Questions
Can't find the answer you're looking for? Checkout our support & help center.
Will I be billed during the trial?
No. You will only be billed after your 7-day trial.
Can I cancel during my trial?
Yes. You can cancel at anytime, just go to your account and click "Billing."
Do I need Vimeo Pro/Standard account?
No. You can host your videos and thumbnails on any CDN or server and link to them.
Need help with your company's OTT project?
No problem, with our VIP solution we will guide you through the whole process from start to finish.
Need additional OTT services?
Check our our Services page.